TÉKA EGYÜTTES
Ritka Magyar I Fonó FA375-2
A full 39 years ago, the Téka Band were recognised as "Young Masters of Folk Art" in Hungary. Everywhere else may have changed utterly, but nothing much has changed in the traditional world of Téka. They still regularly journey and collect between the disconnected, rural outposts of the Carpathian basin, places almost forgotten by the 21st Century, where authentic sources for dance and music and ritual can still sometimes be caught.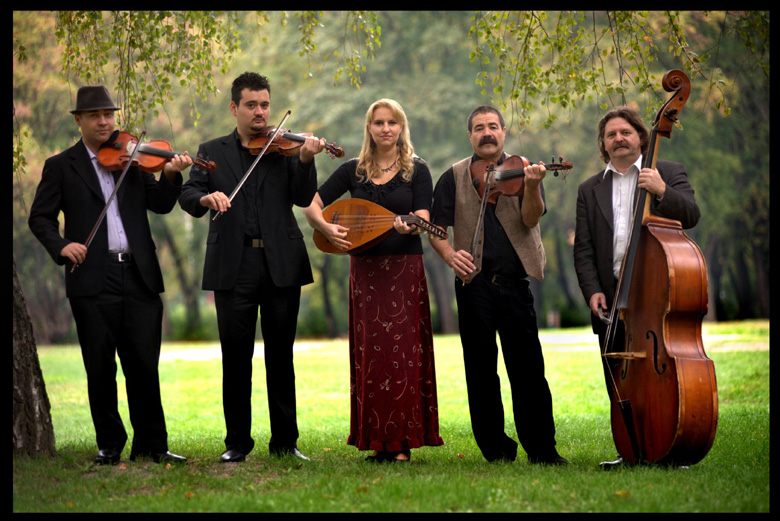 And such catches have always formed Téka. This is just another determinedly grim and austerely exquisite record, just five long, savagely furrowed tracks, a soundtrack to rural rites of passage and seasons. Across dozens of excellent records, they have realised definitive recordings of the original melodies collected, while also passing on the tradition to younger generations through their day jobs as teachers. Perhaps they have even facilitated their own line-up changes, for the present incarnation is led by two young violinists, through opaque and undeniably heavy arrangements, solid black banks of strings and drones.
Kiskertemben Van Egy Öreg Eperfa, one of a number of ten minute epics, is mainly about the spirited and earthy vocals of Beatrix Tárnoki, who is clipped and precise despite being allowed the space to contemplate and exploit the late hour. She's accompanied by minimally adorned playing, a fearful and unswerving intimacy within the severe authenticity. A core of strings – violins, viola, and prominent cello and double bass – is circled
and prowled around by pipes, cimbalom and hurdy-gurdy. Much of the band's music originates in the Mezőség region of Transylvania. And with little inclination to update it, they continue to reel back the years to a genuinely traditional style of playing.
And we can almost hear the táncház. The dance referred to in the album's title is played with real gusto and fidelity by the two young violinists, András Soós and Máté Kalász, so much tradition condensed into their powerful playing, moving in its simple bleakness. On very careful listening, there are also unexpected touches within: a glimpse of things falling apart, unexpected pizzicato, a rogue trill, a fraying vocal line, a surreptitious creeping up of tempo and the dance into some sudden mesmeric wild scene. Which is when the listener is taken.
www.fono.hu
John Pheby